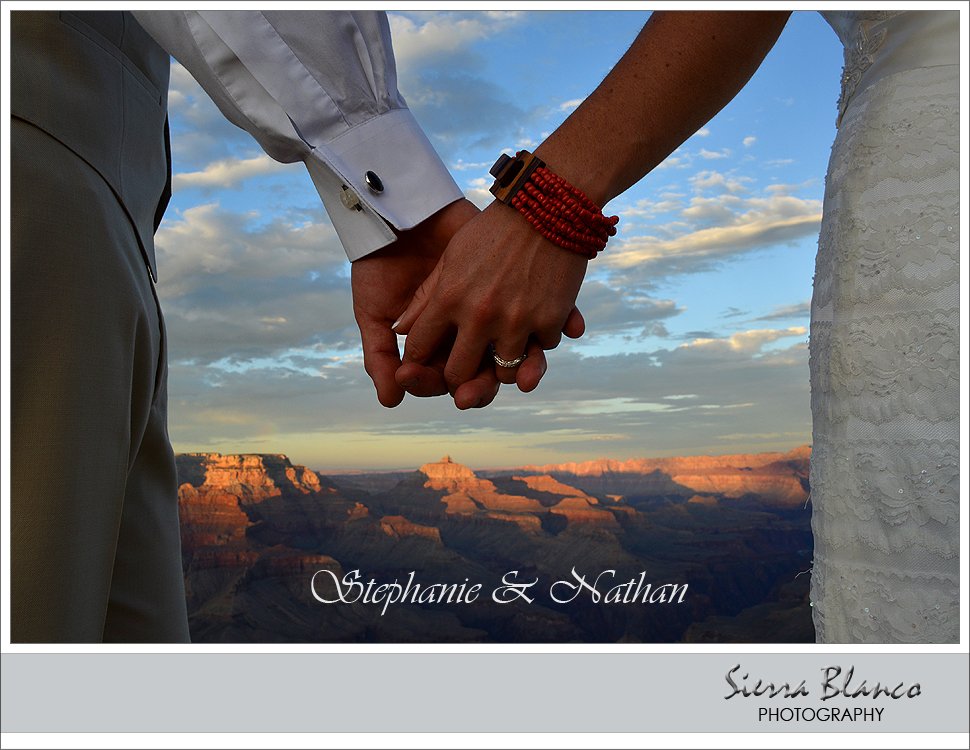 Stephanie and Nathan's relationship is rooted in the Grand Canyon, so it seemed only fitting that they would choose to begin their married life together there as well.  These two were married on September 6th, 2014 at Shoshone Point.  It was still monsoon season and in true monsoon season fashion, rain danced around the canyon throughout the afternoon.  By the time guests began arriving, umbrellas were a must and it looked as though the couples' ceremony might be washed out.  At that moment the canyon put on an astonishing show as the sun peaked through, spotlighting the canyon below ... and in answer to your soon-to-be question, yes, the full double rainbow in the photo below was real!!  It left everyone speechless!!  No words could truly describe the sight.  It was one of the most beautiful moments we have ever witnessed in nature.

So, as the ceremony began, the rain cleared away and Stephanie and Nathan had their beautiful wedding on the rim of the Grand Canyon!  After, the canyon continued to dazzle as it changed colors from orange to red and finally to a lovely, soft pastel pink as the last light of day faded away!  What an amazing and memorable wedding day for these two!

Thank you Stephanie and Nathan for having us as your wedding photographers!  We had such a great time being part of your big day!!